Searching for duplicate listings in Google, Facebook, Foursquare, Factual and Yelp
Free trial, no obligation, no credit card required ! Every new registered user start with plan equal to "Local pros" for 30 days
This tool represent just a part of the functionality of PlePer ! Please register to get the full duplicate search functionality.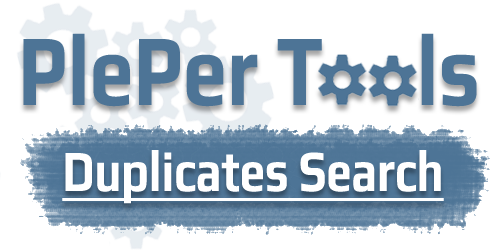 What is this
The easiest way to search for duplicate listings in Google, Facebook, Foursquare, Factual and Yelp, to find google plus page for local Listing.
The results are limited to 20 ( 40 for google ). Search radius depends on the location-based service you search in ( for Google is 5km, for Foursquare is 3km ...)
How to use
Enter your Listing name, phone number or website. The best practice is to copy / paste it from your listing;
Start typing the city or address of the Listing and select it from the drop down menu. This will automatically add coordinates.
Check which network you want to search in for duplicate listings - Google, Foursquare, Facebook, Factual or Yelp;
Hit the "Search" button;
Then you will see many listings, select the original listing and click on "Search duplicates for this Listing" button.
If you will use only search functionality, you can use operator "||" (OR) for multy search, but this works only for google.
Example : Instead of making two searches, one for KEYWORD and one for PHONE_NUMBER you can combinate them like that : KEYWORD || PHONE_NUMBER with maximum three terms.
Registered users can search by TYPE in Google. Available types are in the help section ( question mark on the top right corner if you are logged ). Let`s say you want to see top 40 dentist around entered address.
Example : Enter in "Full name of your Listing" type=dentist
Example 2 combination between types : Enter in "Full name of your Listing" type=dentist|establishment
Usage limits
Every tool have some daily limits, if they are exceeded, you will see notification.
&nbsp